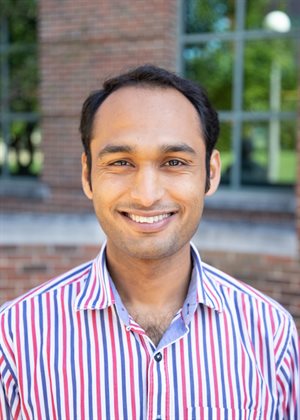 An electrical and computer engineering graduate student has been named a Schmidt Science Fellow to further his research into neurological diseases.
Krishnakant Saboo is a PhD candidate who has researched how machine learning can improve disease diagnosis; through the fellowship, will now dive into techniques for mitigating brain disorders.
Every year, fellows are chosen through a rigorous process. They receive a stipend of $100,000 a year for up to two years of post-doctoral research in a discipline different from their previous PhD work. They then study in world-class laboratories around the globe.
A chance to learn another discipline is part of the excitement of this opportunity, according to Saboo. As a postdoc, you are expected to immediately contribute to a lab, he said, while this fellowship will allow him to acquire a new skillset to address problems in a different domain.
Saboo's PhD work, conducted in the Coordinated Science Laboratory, focused on using machine learning to develop a novel framework for the early detection of Alzheimer's disease.
During his postdoc, he will leverage neuroscience to study stimulation-based treatment. Healthy brain function depends on "normal" activity of neurons. However, sometimes this activity becomes aberrant causing seizures, memory impairments, and tremors. Saboo's research will involve stimulating the brain using electrical signals at precise moments to maintain proper activity. He hopes to make a meaningful contribution to the neurological treatment process by combining clinical needs with machine learning.
This fellowship is highly competitive. Saboo thanked his PhD advisor, ECE Professor Ravishankar Iyer, Director of Fellowships at the Graduate College Ken Vickery, and Associate Director for Career and Professional Development with the Graduate College Mike Firmand for their guidance through the application process.
He was also grateful to Kathy Atchley and Chang Hu from the DEPEND Research Group (CSL). They helped him prepare for the interview portion.
Saboo also said, "My wife, Prakruthi, supported me immensely throughout the process—and was also much more excited about the result than I was." There were many friends, family, mentors and colleagues who helped Saboo achieve this great honor.