12/15/2016 August Schiess, CSL
Naira Hovakimyan has created a startup using deep neural network research for agriculture imaging.
Disease. Weeds. Nutrient deficiency. Weather damage. These are just a few issues that can arise in agricultural fields, but thanks to IntelinAir, a start-up co-founded by CSL Professor Naira Hovakimyan, these problems are becoming easier for farmers to detect.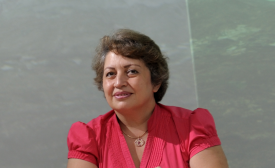 IntelinAir, Inc. utilizes drones and airplanes with advanced imaging to conduct what the company calls an Ag-MRI™. With imaging analytics, the technology can conduct a health analysis of a field and provide insights to farmers.
"Just as an MRI uses imagery to detect problem areas in your body, IntelinAir's proprietary analytics pinpoint trouble spots and give farmers guidance on what to prioritize in their field," said Hovakimyan, the company's co-founder and chief scientist.
With computer vision and deep learning methodologies, the company's technology can learn to spot abnormal crop conditions and adapt over time to changing field conditions.
The technology can prompt tissue samples of leaves that look damaged, for example, so farmers can understand whether the problem is from disease or insects. The imaging can also analyze how many seeds emerged after planting or were lost, prompting the farmer to consider different planting strategies or nitrogen treatments, or alerting them to look for early warning signs of spreading disease.
For beta testing this growing season, IntelinAir had teams of flight specialists capture hundreds of thousands of high resolution images over thousands of acres of fields, including Illinois corn and soybeans, vineyards in California, and research plots in the northern Great Plains.
"The proprietary software developed by IntelinAir engineers is a powerful and unique solution that can take the thousands of images of each field, compile them into one field image, and then identify the anomalies in that field in a clear and concise manner," said Bob Coverdill, director of flight operations.
The company brings data analytics, aerial imagery, and deep learning from the tech world to agriculture. They have long been used in robotics and computing, but it brings new opportunities to the next generation of agriculture, as we face a future with increased production needs to feed the growing population.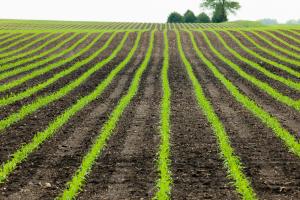 "I've had the opportunity to spend the last 25+ years working with many industries, including aerospace, healthcare, oil production, first response and elderly care, to find ways that mathematics, physics, and computer science can offer solutions to various robotics and engineering problems," said Hovakimyan, a professor of mechanical science and engineering. "I couldn't be more excited about what the future holds for agriculture and how I can play a role in it."
IntelinAir incorporated in September 2014 and has now grown to nearly 20 employees with offices in San Jose, California and Champaign and several corporate connections, including the John Deere Operations Center.
The team, which has been developing the technology through in-field trials, is currently creating an app, which is set to launch in April 2017, in time for the next growing season.