Arjun Athreya investigates biological markers of disease, including triple negative breast cancer
Big data analytics has endless possibilities in health care. Through data analysis, scientists can determine subtypes of diseases, as well as how drug treatments will influence individual patient prognoses. Arjun Athreya, a CSL PhD student in electrical and computer engineering, works at the forefront of this precision medicine work with Mayo Clinic.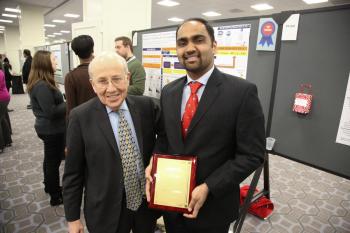 His research is part of the Mayo-Illinois Alliance, which combines researchers from the University of Illinois and Mayo Clinic to promote a broad spectrum of collaborative research for the development of new technologies and clinical tools for individualized medicine. Athreya, advised by CSL's Ravi Iyer, works with Mayo Clinic researchers and data to advance several areas of precision medicine, including breast cancer, depression, and diabetes treatment.
"It is very exciting for Mayo investigators to have opportunities to work with one of the best engineer and computer science departments in the nation," said Dr. Liewei Wang, one of Athreya's collaborators at Mayo Clinic. "The collaborations between Mayo Clinic investigators, our colleagues, and students like Arjun to apply computational methods on big data sets in medicine to help answer biological questions and to impact clinical outcomes have been very fruitful. We hope that this type of collaboration will continue to grow between the two institutes."
How metformin is being repurposed as a cancer drug
Metformin, an anti-diabetic drug, has shown promise in treating triple negative breast cancer, a molecular subtype of cancer for which there are no targeted treatments yet. Triple negative breast cancer (TNBC) is not driven by the three receptors known to fuel most breast cancers, so it doesn't respond to current targeted receptor treatments.
Athreya's data-driven analytics and machine learning research allowed Mayo Clinic scientists to more closely examine the molecular mechanisms of TNBC. Using single cell techniques, they found that metformin shows preliminary effectiveness in reducing or preventing further tumor growth in this type of cancer.
"Precision medicine is about identifying disease subtypes of a particular disease, and deciding which treatment is best for each subtype," said Athreya. "We found that metformin, which normally treats diabetes, also had therapeutic effects on this certain type of breast cancer."
Athreya worked with Dr. Liewei Wang and Dr. Richard Weinshiboum from Mayo Clinic to investigate the particular genes in TNBC that were affected by metformin. Athreya determined that a small cluster of cells showed a different distribution in gene expression after metformin treatment. With further help from bioinformatics expert Dr. Rani Kalari and her team, they identified one gene for laboratory experiments, which established that it inhibits cancer cell proliferation and migration.
"I took data that was more complex than what biologists could see under a microscope. You can't functionally study 20,000 genes—that's very expensive," said Athreya. "So we used algorithms and data analytics to narrow down the hypothesis to test just a few genes, and we were able to find key genes."
The Mayo Clinic team has conducted a clinical trial that included many TNBC patients to begin the process of developing a therapeutic pipeline. Because of the unique characteristics of TNBC, it does not always respond to treatment.
"Because we know triple negative is a whole other beast, success of any drug treatment is going to be very variable. We're trying to understand: what is the baseline biological difference between women who have shown therapeutic effects and the ones who haven't?" said Athreya.
The team is building a model using a game theory approach that may be able to predict—given genes as biomarkers—whether a patient will respond to drug treatment. They can determine with about 95% accuracy in predicting the women who will and will not respond, but it is still being explored. Such a model is now helping further probe the reasons why some patients may be predisposed to respond better to the drug.
Athreya receives top accolades
Athreya's innovative research that bridges clinical medicine and engineering has received many accolades, including two top honors in the American Society for Clinical Pharmacology and Therapeutics. He was selected as a recipient of the ASCPT 2017 Presidential Trainee Award (view a video made for his award), and the 2017 Jason Morrow Trainee Award. His work examining metformin's impact on TNBC was accepted to IEEE Conference on Bioinformatics and Biomedicine (BIBM); following this, his essay on the collaborative efforts to address the analytics of precision medicine earned the Early Investigator in Precision Medicine Scholarship Award.
His success in this research encourages continuing partnerships with Mayo Clinic.
"Having the opportunity to unite the Illinois engineering training and expertise of Arjun with the biomedical expertise and data available at Mayo Clinic as a result of a special fellowship that he has received has undoubtedly helped us to develop novel insights into the causes and treatment of human disease," said Dr. Weinshilboum.