Awareness week cultivates conversations about ethics in research
There are thousands of examples of unethical behavior in today's society, ranging from cheating on homework to medical experiments to falsifying research results—and even more examples of ethical conduct, many that go unheralded. Each year, Illinois celebrates Ethics Awareness Week to educate and bring awareness to the ethical issues surrounding students, staff and faculty, focusing on learning, scholarship and research.
Ethics Awareness Week, which was held March 3 – 7, 2014, is an initiative of the National Center for Professional and Research Ethics (NCPRE) and is sponsored by the Graduate College and the Office of the Vice Chancellor for Research, with support from the Center for Professional Responsibility in Business and Society. NCPRE also hosted an Ethics Awareness Week last October.
"As professionals, each of us has personal ethical obligations and we also have obligations to other members of our work communities and to the public that uses the results of and often pays for our work," said C. K. Gunsalus, NCPRE Director and research professor in the Coordinated Science Laboratory. "Our community is one that operates upon trust: trust that published work is accurately represented, that work is carried out as described and that results are as presented. We have obligations to the students and trainees in our midst to share with them knowledge about the highest standards of ethical conduct."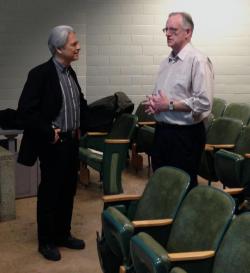 Attendees at this semester's events, which were held throughout campus, heard from experts in the research field on NSF's plan to help cultivate cultures of integrity by changing the environment, rather than trying to change individual behavior, as well as ethical conflicts that surround open access, ethical issues teachers face in the classroom and a variety of panel discussions. The talks covered an assortment of topics relating to students and professionals in almost every area of endeavor.
"Achieving expertise in one field often makes us acutely aware of all that we don't know. It can be daunting to talk about ethics for fear of not knowing enough, sounding uninformed or thoughtless or appearing to be judgmental. There are a number of challenges," Gunsalus said. "At the end of the day, though, there are no better people to be talking about ethics in any given area than those who are experts in that area. And we are all resources for talking about ethics, especially if we share our mistakes, what we learned from them and articulate the principles that we use to govern our professional lives. Students and emerging professionals love hearing about how others made mistakes and what we learned from them."
NCPRE is home to the Ethics CORE online resource, initiated with a $1.5 million award from the National Science Foundation. Ethics CORE is designed to put ethics resources at the fingertips of researchers, instructors, administrators and professionals and is being maintained by the Grainger Engineering Library with support by the College of Engineering and the University of Illinois. NCPRE is part of the Coordinated Science Laboratory.