As far as final semesters go, Spring 2020 has been unprecedented. While the traditional graduation ceremony and many of the celebrations that go along with it may have been canceled, we want to recognize what our graduating students have contributed to research during their time at CSL and celebrate their future plans.
Wyatt McAllister recently defended his thesis, "Multi-agent planning for coordinated robotic weed killing" as part of Girish Chowdhary's lab. He received his Ph.D. in electrical and
computer engineering and will spend the summer conducting agriculture-related research, working on TerraSentia robots to develop an extraction technique for weed density estimates, before entering the job market in August.
After this coming growing season, McAllister would like to get a job on a team that develops distributed autonomous systems. Working as part of Chowdhary's lab gave McAllister experience coordinating the actions of multiple autonomous vehicles. He credits his research with preparing him to solve problems in his career.
"As you progress through your educational career, your courses may not be directly relevant to your research, and your research may not be directly relevant to your job. But throughout my time at Illinois, I've taken a difficult problem that was not solved before and has never been studied in a given context, and created my own framework to develop a solution," said McAllister. "I can take a hard problem and learn techniques to solve it, working with multiple people to leverage their unique technical skills. That's something I'll always be able to use and take with me."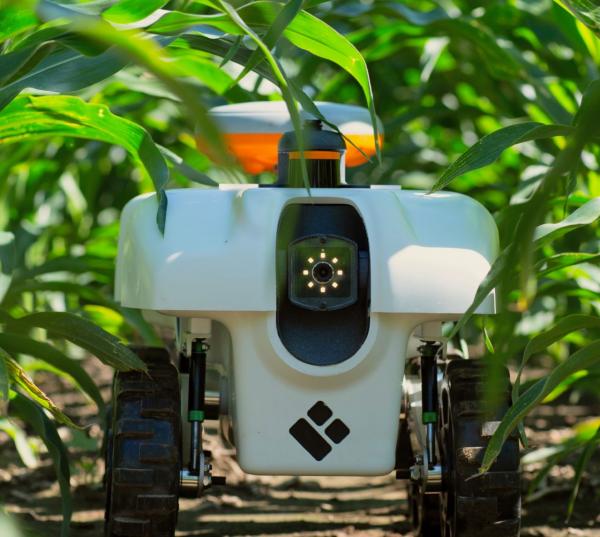 McAllister was able to publish and present at technical conferences throughout his time at CSL, but his favorite part was the interdisciplinary nature of Chowdhary's lab. Together with students and researchers from crop sciences, aerospace engineering, mechanical and science engineering, and many other departments on both the north and south campus, the group was able to work on both theoretical and physical research. He advised students to look for opportunities to work with such a diverse group of people.
"I would say that they should not be afraid to talk to people about their research and find people to collaborate with," McAllister said. "They should obviously become an expert in whatever their Ph.D. is in, but they shouldn't be afraid to learn about other technical fields that are related to what they're doing. You won't be able to accomplish as much in a vacuum on your own as you will by collaborating with other people. They are the best resources you have to learn."