CSL alumnus Rajiv Maheswaran now CEO of Second Spectrum
Big data is finding uses in countless organizations and industries, from agriculture to medicine. CSL alumnus Rajiv Maheswaran saw another application for big data analytics: the sports industry.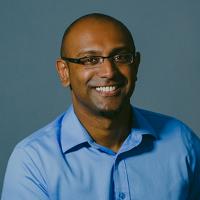 Harnessing the power of pattern recognition, machine learning, and computer vision, Maheswaran co-founded Second Spectrum, an innovative sports analytics and data visualization startup. The company develops platforms for sports insights and experiences that inform the playing decisions of some of the biggest teams in sports and appear on media outlets like ESPN and FOX Sports.
"We work on machine understanding of sports that enables everyone to engage with content they care about in more personalized and interactive ways," said Maheswaran, a 2003 Ph.D. alumnus of electrical and computer engineering program at Illinois.
Maheswaran, who was advised by CSL Professor Tamer Başar at Illinois, began his career as a postdoctoral research associate at the University of Southern California and then became a research assistant professor there working in artificial intelligence. In 2013, some of his research led him to co-found Second Spectrum.
"Throughout my time at Illinois and my early career, I developed an appreciation and improved my ability regarding rigor in thinking that has stayed with me and served me well in many endeavors," said Maheswaran.
Second Spectrum gives Maheswaran the ability to use his engineering background to explore the data-driven world of sports: they use machine learning in data analysis to extract meaningful insights. Research in computer vision is used to augment information in videos, like player location, movement, and other visual features.
The startup goes beyond the nuts and bolts of engineering though—they employ advanced design and storytelling techniques that enhance the audience's experience of a game and tools that help everyone from coaches to broadcasters to fans visualize and contextualize information.
"The best parts of my work at Second Spectrum are working on problems that are both technically interesting and have practical value, and I get to think about the best ways of discovering and communicating information to everyone, leveraging sports as a vehicle," said Maheswaran. "And I get to work with people who are both incredibly capable and kind."
Maheswaran was a keynote speaker at the 2016 CSL Student Conference, and spoke about the roles that many mentors, including Başar, a professor of electrical and computer engineering at Illinois, have had in his life.
"It's much more difficult to do anything well without the guidance and support of people who have walked similar paths," said Maheswaran. "Find and earn the time of mentors who care about you."