CSL professor receives Campus Distinguished Promotion Award
Recently, more than 100 faculty received the exciting news that they would be promoted to either associate or full professor. For CSL's Grace Gao, her promotion came with an additional achievement.
Gao, associate professor in
aerospace engineering
, was one of seven new associate professors and three new professors recognized for a distinguished promotion.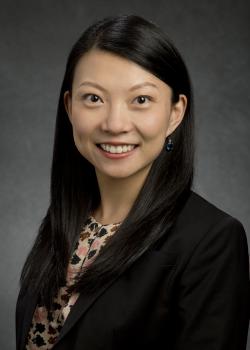 "I am delighted to let you know that your accomplishments stood out as particularly remarkable, in a context where virtually all the 100+ cases reviewed were excellent," said Vice Chancellor for Academic Affairs and Provost and CSL Professor Andreas Cangellaris in the award letter. "I would like to recognize your stellar achievements with a 2019 Campus Distinguished Promotion Award."
Each year, the award is chosen by the Campus Committee on Promotion and Tenure. The group goes through all of the applications for tenure as part of the promotion process, and identifies individuals who are "particularly excellent" and have made "truly exceptional" contributions in both research and teaching.
"It's really nice to see that my research, teaching, and service are recognized by the university," said Gao, who also has appointments in electrical and computer engineering and computer science. "It definitely gives me a lot of encouragement and will motivate me to do better research and teaching in the future."
Gao's research involves GPS-based positioning, navigation, and timing as it applies to applications to Unmanned Aerial Vehicles, autonomous driving cars, and power systems. Her research acumen is impressive, but this award also recognizes Gao's teaching.
"My teaching is not about what I know or how I judge students with certain grades, but what students can gain from class and how better to prepare the students for their next steps in life," Gao said. "Beyond teaching fundamentals, I think it is critical to instill valuable habits in students' minds. The most powerful tools for doing so are hands-on projects that capture students at their most teachable moments, and letting students see the direct impact of what they learn in class to real-world problems."