At the flagship conference for the IEEE Solid-State Circuits Society (SSCS) this week, 20 graduate students from universities all over the world received a Predoctoral Achievement Award. Two of those students conduct research here at CSL.
Sujan Gonugondla and Karim Megawer were both honored for their academic record and promise, the quality of their publications, and their graduate study program matching the goals of the society. They had also both had papers published at the two previous IEEE-SSCS Conference. An accomplishment in itself.
"For circuit PhD students the Predoctoral Achievement Award is the highest award you can get from SSCS," said Megawer. "It indicated good quality research and publications. Not many people get this recognition and it's a great honor."
Sujan Gonugondla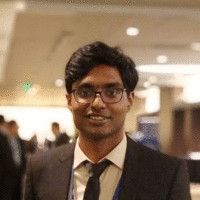 Gonugondla, advised by CSL Professor Naresh Shanbhag, researches on making machine learning systems for edge devices. The issue with the current day approach is that the data collected in Edge devices are transmitted to the Cloud for processing using machine learning algorithms. This approach results in a substantial energy and delay costs and raises privacy concerns. Gonugondla's research focusses on building energy efficient integrated circuits for machine learning to enable these Edge devices to analyze the data in-situ, i.e., without transmitting the data outside the device.
"The significance of Sujan's work was that it demonstrated the effectiveness of on-chip training in pushing the limits of energy efficiency of deep in-memory architectures when realizing machine learning workloads," said Shanbhag, Jack S. Kilby Professor of Electrical and Computer Engineering. "His integrated circuit prototype demonstrated up to a 100X reduction in the energy-delay product of decision-making over an equivalent von Neumann digital architecture in the lab. This is a phenomenal accomplishment and was highlighted via articles in IEEE Spectrum and EE Times. Therefore, Sujan fully deserves receiving this Predoctoral Achievement Award."
When asked what makes his research stand out from the other applicants, Gonugondla thinks working on algorithmic solutions to make efficient systems, rather than circuit design only, helped set him apart.
"I tried to bring a unique approach to this problem, where we focused on the system as a whole instead of looking at it as only a circuit design problem," said Gonugondla, an electrical and computer engineering student. "Our approach includes solutions from algorithmic and architectural perspective, which is definitely different from other groups. This is the approach we take in Professor Shanbhag's lab where we don't look at the integrated circuit as an independent entity but as a hardware-software stack that needs to be optimized and made efficient."
Karim Megawer

Advised by CSL Professor Pavan Hanumolu, Megawer's research focus is on ultra-low noise clock generation. He is taking a holistic view of the entire clocking system to improve noise and/or energy efficiency by an order of magnitude. Specifically, he is focused on implementing frequency multiplying and fast start-up crystal oscillators. As part of his work, Megawer invented a novel crystal oscillator frequency quadrupler and demonstrated the effectiveness of his approach with measured results obtained from a prototype integrated circuit. He also developed a novel method to reduce the start-up time of crystal oscillators using a robust two-step injection technique. This novel technique achieves more than 30× improvement in startup time and reduced the startup time to within 1.5× of the theoretical minimum.
"While crystal oscillators are at the heart of all electronic systems they operate at low frequencies, are bulky, and are very difficult to turn-on quickly. As a result, they often become a bottleneck in improving system performance," said Hanumolu. "Karim's work addressed some of the longest-standing drawbacks and demonstrated that it is possible to architect crystal oscillators to not only generate low-noise high frequency clocks but also to turn them on and off rapidly. I believe his work will have a meaningful and lasting impact on future commercial products."
Megawer believes his previous publications are what set him apart from other applicants. These include two first author papers at the International Solid States Circuits Conference (ISSCC) conference, two presentations selected as the best-in-session during this conference, and the invitations he received to submit his papers to Journal of Solid-State Circuits.
"Since this is the most prestigious conference in circuits the award depends on academic record and quality of research," said Megawer. "I felt I had a quality application with my first-author ISSCC publications and strong recommendation letters from Professor Hanumolu and three industry collaborators."