Start-up aims to bring high-speed wireless communications to the subsea industry
The oceans cover more than 70 percent of Earth's surface, and yet less than 0.05% of the ocean floor has been explored close up. Why isn't there more data from the depths of our oceans?
CSL alumnus Thomas Riedl and CSL Professor Andrew Singer identified a key issue: current wireless underwater communication is limited to dial-up speeds and wired communication is incredibly expensive.
OceanComm, a start-up founded by Riedl and Singer, is looking to vastly improve our ocean exploration capabilities. The team is developing a new technology that uses ultrasound to wirelessly transmit data at broadband speeds.
Broadband speeds have become commonplace on land. Underwater, however, our wireless communication capability is still very rudimentary. Seawater absorbs radio waves very effectively, so much so that satellite or cellular communication won't work.
Instead, OceanComm's wireless underwater modem uses sound waves to send information, similar to how whales and dolphins communicate. Existing wireless underwater modems only transfer about 1 picture a minute, but OceanComm's wireless modem is 1,000 times faster and can live-stream video.
"We believe the oceans are the next big frontier—there are many promising avenues of exploration," said Riedl, CTO of OceanComm. "The deep ocean holds greater than 75 percent of newly discovered oil, and 90 percent of Earth's metal deposits, yet we know less about the ocean floor than we do about the surface of Mars."
The offshore oil and gas industry would immediately benefit from the ability to quickly transfer data wirelessly. Robotic divers (ROVs) are a key technology for the construction and maintenance of subsea infrastructure, but even the newest models require a tether for communication. The tether is bulky, takes a full day to extend down to the ocean floor, and its handling requires a large ship, costing greater than $100,000 to operate per day, directly above the tether.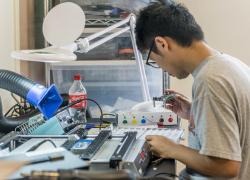 Deep sea mining is another promising industry that stands to benefit from OceanComm technology. Potato-sized metal balls, called manganese nodules, line the ocean floor in troves. They hold about 90% of Earth's metal deposits and are rich in key ingredients needed to manufacture today's high-tech electronic products such as lithium-ion batteries, electric motors, and smart phones. Yet mining these nodules is not yet economically viable due the high cost of performing work subsea.
To combat this hurdle, the team is building the world's first wireless underwater modem that can transmit at broadband speeds at depths of up to five miles.
"Think Wi-Fi for the subsea world," said Riedl, who received his PhD in electrical and computer engineering at Illinois in 2014. "Our technology will drive down cost of deep sea access by a factor of ten."
OceanComm aims to eliminate our dependency on large, expensive support ships to handle communication wires down to the ocean floor. In the long term, they envision wireless networks that cover entire subsea facilities. These networks will unleash robotic divers (ROVs) and other subsea tools from their cables and connect them to the internet. Underwater robots will be able to move freely, piloted from anywhere.
Named most promising startup at the world's largest oil and gas tradeshow, the Offshore Technology Conference (OTC) in Houston, OceanComm has received more than $3 million in seed funding and contracts, and the team is making plans for first customer trials at sea later this year.
Transmitting data through water is particularly complex because of Doppler effects. The speed of sound is 200,000 times slower than the speed of light, causing distortion in sounds from moving objects, which is why a train moving past you exhibits a shift in sound, but its headlamps don't change color. Riedl developed a signal processing algorithm that addressed this bottleneck and bumped up data transmission rate from a picture per minute to greater than 15 pictures per second, making live-streaming possible.
In US Navy field tests, they proved the viability of the algorithm and shortly after, Riedl and Singer patented their signal processing algorithms and founded OceanComm, headquartered at University of Illinois' Research Park, which now has eight employees. Riedl plans to hire at least three more electrical engineers in the coming year.
"We're excited about the promise of this technology," said Singer, OceanComm's CEO and professor of electrical and computer engineering. "There is a massive subsea industry that is operating with wireless modems that are not too far from the early dialup modems of the 1980s, and we're offering them the Wi-Fi hotspot era."