Celebrating our graduates: Sakakini already started with career at Amazon
CSL alum Tarek Sakakini defended his thesis last summer and has already started his career as an applied scientist at Amazon. We caught up with Sakakini, who holds a PhD in electrical and computer engineering, to talk about his experiences at Illinois and what he's up to at Amazon.
What do you do as an applied scientist at Amazon?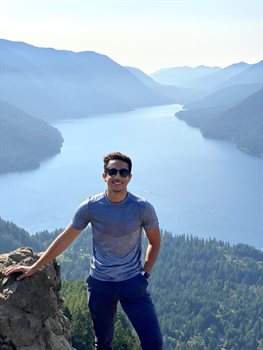 One thing about being an applied scientist at Amazon is there's a lot of encouragement to provide value. As long as your research is providing value, then it is valid research. I work on a team that provides demand forecasts for Amazon devices. We forecast how many people are going to want these devices in a period of time.
This means that day to day, I coordinate with peers and customers to inspect the forecasting model and determine if anything is wrong with it. We have to understand signals coming from the outside world, some of which are unexpected. During the lockdowns, sometimes people felt discouraged to buy, and sometimes they felt encouraged to buy. We use research methods to determine how to incorporate the signals into the model.
How did your experiences at CSL/Illinois help prepare you for this career?
From a technical perspective, the courses introduced me to machine learning and technology that allowed me to be able to work for Amazon in this capacity. More importantly, in terms of research, [my experiences at Illinois gave me] the ability to look at the technology that is out there and be able to inspect what the downsides or deficiencies are of that technology and find spaces for improvement.
I recall one time I was talking about my system; I didn't know why it was failing, and I was defensive. One of my committee members, Pramod Viswanath, said his approach is when we see something that doesn't make sense or is weak, that's an opportunity for us to improve. I learned soft skills, like presenting. The first time I had a presentation at a conference I was very rigid in my style; I wanted to include all the information I had. My advisors offered me the guidance that you only have 15 minutes; the audience will not be able to grasp your six months of work in 15 minutes. The presentation is an advertisement to get the audience hooked to go and read your paper for the full details. You have to create a story to tell. This was very enlightening.
What advice do you have for current students?
What I would advise students to do is to take ownership of what they're doing. What I mean by that is to realize that whatever research project you're doing, it is your own, and you should enjoy the process and enjoy the development. You're not doing it for anyone else's sake. Even though it's funded by an organization, even though it's being reported to different groups, at the end of the day, this project is yours. That investment and ownership goes a long way.
I recall being on campus in Champaign and saying to myself, "This is a very small town, I wish I was at a larger town." Now, looking back on my days in Champaign, it's a beautiful place to be. Just enjoy it while you're there and don't compare it to other towns and cities. It's a beautiful place and you'll appreciate it more when you leave it.
Anything else to add?
I also want to highlight how thankful I am for my advisor Suma Bhat. She was with me through it all and I'm really thankful. She was the greatest mentor I could ever ask for. She provided me with a lot of opportunities, a lot of breadth in terms of space in which to research; she introduced me to a lot of collaborators; she had a lot of faith in me. A lot of things came from the traditional coursework, but a lot came from the mentorship.