Adve elected to prestigious American Academy of Arts and Sciences
Sarita Adve didn't know of her nomination. She hadn't had to interview, answer any questions or provide information. Suddenly, though, an email appeared stating that she earned election as a 2020 member of the prestigious American Academy of Arts and Sciences. In the moment, Adve couldn't believe what she was reading.
She even wondered if it was a hoax and called in her son, Anshul, to read it.
Upon further inspection, the Richard T. Cheng Professor at Illinois Computer Science understood the reality. As of April 23, she was a new member of the Academy. In response, she grew encouraged about new possibilities and reflective of formative relationships.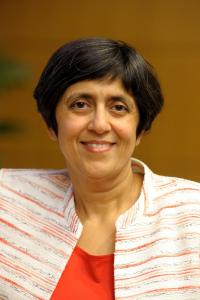 Even as her career fills up with accolades, Adve said this is probably the most selective honor she's received. It also allows for a great payoff.
"This definitely gives me a platform to further my efforts in making change," Adve, CSL professor, said. "And it's possible because of amazing mentors like my PhD advisor, Mark Hill, Marc Snir from Illinois and Janie Irwin. Collaborators like Hans Boehm are so important, as are my many amazing students who make me so proud.
"Of course, this is also about support from my husband – Vikram, who is part of CSL and the Illinois CS department – our children and our parents."
For their time and circumstances, Adve said, her parents were pioneers by encouraging their daughter to travel overseas for graduate school. Her husband committed to a partnership based on total gender parity; important considering there were few role models displaying this attitude then. She also pointed to her children's understanding and encouragement, which allowed her to pursue achievements without feeling guilt while juggling professional and personal commitments.
Part of the Academy's prestige stems from its origin. Formed during the American Revolution by John Adams and John Hancock, among others, it aimed for an ambitious goal.
From the outset, according to its website, the Academy assisted the new republic, which "would require institutions able to gather knowledge and advance learning in service to the public good."
Adve feels prepared to strive for these goals in two different ways.
"For me, first and foremost, it was very exciting to see that there were other women – women I'm personally related to – on the new members list," said Adve. "The last few years for us have been quite the journey, as we've tried to ensure that women earn recognition in our fields. Our elections have provided a wonderful moment in terms of these efforts."
The first name she noticed was Margaret Martonosi, computer science professor from Princeton University. The two started graduate school around the same time and followed each other's careers since.
The second person is Shobhana Narasimhan, who entered the Indian Institute of Technology Bombay as a graduate student while Adve started undergraduate studies there. For a matriculating class with only 11 women undergraduates and a campus-wide ratio of about 4 percent women, Adve thought it particularly amazing that two of her cohort were elected as members of the Academy together.
She views the Academy as important to her continued work with the CARES movement. As ACM SIGARCH chair, she co-led the formation of the SIGARCH CARES subcommittee to "aid reporting on discrimination and harassment policy violations … in the architecture community." CARES has now spread across Computer Science and was recently awarded the Computing Research Association's Distinguished Service Award, but, she believes, there is a lot more work to be done to make our research communities more diverse and inclusive and offer a level playing field for all.
Adve also believes her involvement with the Academy will impact her own current research, amplifying the importance of computer systems research for society at large.
Election to the Academy is, as its website states, both an honor and an opportunity. Studies produced through the multi-disciplinary honor society result in promoted projects and publications.
"It is now well understood how important the computing field is to all aspects of human endeavor," said Adve. "Less appreciated are some fundamental challenges that the field currently faces."
The last several decades, Adve said, have seen an unprecedented doubling of computing functionality every two to three years, largely driven by shrinking sizes of computing devices. This shrinking is now coming to a halt because of physical limits. Adve's current research is developing novel methods to continue providing ever-increasing computing functionality that can help address some of society's most challenging problems. A key part of the solution is to extract efficiencies by making computers more specific to the application they are used for.
"You could call this an approach focused on making lemonade from lemons," Adve said. "The most exciting part of this new era of computing is that we now have an opportunity to work beyond just the computer systems technology. It is an opportunity to think more deeply about how computers are used."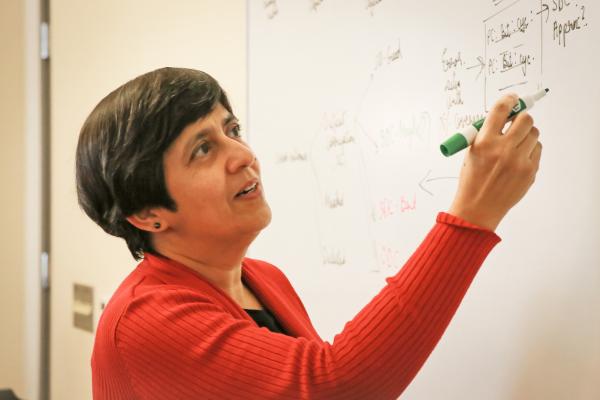 Adve is currently working on computer systems for virtual and augmented reality in her ILLIXR (Illinois eXtended Reality) project. She believes these extended reality technologies will fundamentally change the way in which users interact with computers and what they do with them.
But she sees many challenges ahead, ranging from how to design such systems to privacy-related issues to the very essence of how humans interact. These issues became particularly timely as a pandemic has gripped our world. Adve believes that more mature augmented and virtual reality technologies would have been wonderful in these times, but the limitations of the virtual experience have, simultaneously, become clear.
In her past work, Adve focused on problems that encompass multiple research areas. She is well-known for her work on memory consistency models. This 15-year effort, from initial papers to wide adoptions, required influencing researchers and practitioners across hardware and software. Those ideas led to the memory models for the Java and C++ programming languages and formed the foundation for memory models used in most hardware and software systems today.
But, Adve believes, her recent work on extended reality is her broadest foray yet. When she started working in this area a couple of years ago, she knew little about it.
"But that's what's exciting about academic life – you can afford to jump into a problem just because you believe it is important and it excites you," said Adve. "Together with fabulous students and collaborators, you learn and hope to make a contribution."
Looking forward to what's possible with inclusion in the Academy, Adve eagerly anticipates new avenues for development of these ideas.
"Being a member of the Academy broadens my exposure to a diverse set of views from some incredibly talented people and amplifies my own message with additional credibility. It is indeed a privilege to be part of such a group, and I hope I can make a difference, too," Adve said.
Of course, her research efforts will continue right here at Illinois CS - where she's found the right elements for a productive research effort.
"It's the breadth of the place, the depth of the place and the collaborative nature of this place. Collaborating to accomplish big things is in the DNA of Illinois CS," Adve said. "I've also enjoyed the encouragement I receive here to do the unconventional. And, of course, it's the students. We have some of the very best students from across the entire world right here."
The Academy originally planned a celebration for new members in October, but Adve said it is uncertain if that will occur due to the spread of COVID-19.