The Cat's Meow: Former CSL students revolutionize cat toy industry
Students that pass through CSL have the potential to change the industries they enter after graduation. For many of them that means the computer science, electrical engineering, or cyber security fields. While former students Dave Cohen, Michael Friedman, and
David Jun all received graduate-level degrees in electrical engineering, that was only half of creating their innovative start up. The industry they revolutionized? Cat toys.
Mousr, the first toy to come out of the trio's startup Petronics, is an autonomous robot mouse. The new product officially hit the market last spring and has been a hit with its cat customers ever since.
"Our feedback has been really positive," said co-founder Cohen. "People tell us all the time that they've been waiting years for a product like this, but there's nothing out there."
Cat owners have been clamoring for their product, a robotic mouse with two settings. The first allows the owner to control the robot's movement from a phone application, and the second runs the mouse autonomously. There are also a variety of tail attachments to appeal to as many cats as possible. The bounce tails are springy and jerk a feather, fur, or catnip ball around. The flick tails offer the same ends but on a string attachment, for cats who enjoy a game of chase.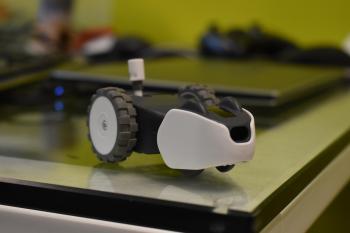 The final product is the result of years of testing, electrical engineering knowledge, and a broad understanding of cat behavior. While the cat behavior was learned through direct observation of the group's own cats and reading at length about cat psychology, the needed engineering skills were courtesy of the
University of Illinois at Urbana-Champaign
.
"Our experiences were unique in the sense we weren't just learning theory we were building hardware," said Cohen "I've seen other people try this idea and they fizzle out. The education and the background we received could not be replaced and were necessary to pull this off."
Cohen's PhD research involved building an algorithm that would allow a device to observe species in the wild, without using a lot of battery. He was testing one of the prototypes using his cat as the wildlife. When a friend suggested that pet monitoring was a marketable field, he took the idea to the group. Friedman had been analyzing the play behavior of his four cats and how to get, and maintain, engagement for long periods of time. The idea of using sensors in pet care combined with Friedman's observations led to the original prototype -- a hobby robot with sensors, a chopstick, and some string.
While the mouse has certainly gone through a transformation since the first rendition, it wasn't an easy process. The group had worked with a couple startups, but had never established their own. And from a product perspective they didn't know how each cat would react, what home environment the toy would be used in, and if owners would be willing to pay the $149.99 sticker price for a pet toy.
"It's been a lot of trial-by-fire," laughs Cohen. "It was really risky because we'd never manufactured anything before and there were so many unknowns."
While it felt risky, the group actually underestimated how popular Mousr would be. The pre-Christmas production order, which was supposed to last from October to March, nearly sold out before the New Year, causing the group to reduce their marketing efforts. Additional "tail bundles" that offer cats even more options also sold out.
This initial success maybe have been a surprise, but the group has high hopes for the future of their company and Mousr itself. Cohen said they would like to move Sprite Robotics into the home robotics market by improving the capabilities and sensing modalities used in Mousr. As for the rodent robot, there is still room for growth.
"We know there are ways through development we can enhance it to improve the experience for cats," Cohen said. "We feel we've only scratched the surface for (Mousr's) potential."
To learn more about Mousr visit the Petronics website, https://petronics.io/.