CSL alumnus applies control theory to financial systems
At first glance, Zhe Di's leap from designing stable hovercrafts to becoming vice president at Bank of America may not seem like the straightest of career paths.
But Di, who received a PhD in mechanical engineering with an emphasis in control theory, discovered that the tools, software, and mathematical-based theory he developed in advisor Geir Dullerud's lab applied equally well to robotics and the financial sector.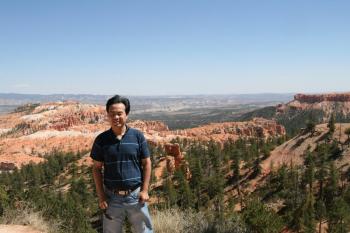 "The work of my PhD in mathematical algorithms for hovercrafts trained me to have a good understanding of mathematics and programming skills," said Di, who graduated from the University of Illinois in 2007. "Those skills I gathered while working on my thesis at CSL easily transferred to other areas."
Shortly after he graduated, Di was offered a position as a financial system developer, which included work like developing software to evaluate equity and a framework that assessed risk management. Later, after positions in private firms, he moved to work as a quantitative developer at Citi, and is now the VP of Quartz Core at the Bank of America in New York.
Di picked up a second master's degree in financial mathematics while he continued to work, after finding he enjoyed working in finance.
"It's quite exciting to work on financial technology—it has evolved very quickly. For example, for consumer banking, 10 years ago, we didn't have a smart phone, but now we can deposit checks on them," said Di. "Right now, there are some new technologies that are pushing how banking works. It's exciting to be a part of the future of banking."
In addition to lending money, banks create income through investments and securities. At Bank of America, Di specifically works on a novel big data platform that will consolidate the trading information for all the assets Bank of America trades—not an easy task. During the financial crisis of 2008, Bank of America merged with Merrill Lynch, combining a total of 70 different systems for asset trading.
"Having so many systems makes it very difficult to understand and manage financial risk. We didn't have one method to understand or incorporate every single system," said Di. "So we are building one platform for everything."
The problem, says Di, is that bringing together so many systems results in an enormous amount of data that needs to be organized, recorded, and traceable. With Di's background in mathematical theory, he works on streamlining the process of transferring and storing complicated financial data before it is translated to the consumer.
"There are not a lot of people that have expertise in this area, so having that fundamental knowledge gained at CSL of computer science, programming, and a solid mathematical background gave me an advantage in securing this job," said Di. "Having a PhD also shows a company that I'm able to work independently on complex work."
Dullerud, a professor of mechanical science and engineering and Di's advisor, is not surprised by his success in his career path.
"Zhe was a driven student, one of the rare individuals who can both contribute to deep theory and work on significant application development," said Dullerud.