CSL alumnus Arvind Krishna announced as next CEO of IBM
A former CSl and Illinois ECE alumnus, Arvind Krishna (MS '87, PhD '91), has been elected as Chief Executive Officer of IBM, effective April 6, 2020. Krishna is regarded as an elite and distinguished alumnus of the Department of Electrical and Computer Engineering at the University of Illinois at Urbana-Champaign.
"We could not think of a better choice than Arvind Krishna to be the next CEO of IBM. An alum of the Grainger College of Engineering and our top-ranked department of electrical and computer engineering, Arvind is a visionary and an accomplished giant in the world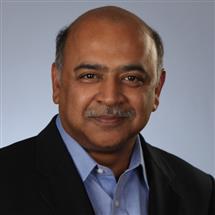 of high tech. IBM strives to build a smarter tomorrow, and Arvind's leadership will be indispensable as they do just that," Rashid Bashir, Dean of The Grainger College of Engineering, said.
Krishna received an Alumni Award for Distinguished Service from The Grainger College of Engineering for his guiding influence at IBM through his roles in product management, technical research, and executive leadership in 2016. He was previously honored with a Distinguished Alumni award from Illinois ECE for his technical management in areas of network and computer security and mobile and distributed computing from Illinois ECE in 2007.
"Arvind is the right CEO for the next era at IBM. He is a brilliant technologist who has played a significant role in developing our key technologies such as artificial intelligence, cloud, quantum computing and blockchain," Virginia Rometty, IBM Chairman, President, and Chief Executive Officer said in the company's press release.
Arvind Krishna enrolled as a graduate student and research assistant in Electrical and Computer Engineering and the Coordinated Science Laboratory at the University of Illinois in the Fall of 1985.
Krishna's outstanding technical and leadership abilities were evident during his early years at the University of Illinois.
"Students Arvind worked with placed a heavy reliance on him to provide help in solving technical problems. He consistently finished in the top one or two in his classes beginning with his first semester when he took digital communications from me," Bruce Hajek,
Illinois ECE Department Head and Leonard C. and Mary Lou Hoeft Endowed Chair in Engineering, said.
Hajek became Krishna's PhD advisor in August 1987, after he completed his MS thesis under the direction of Illinois ECE Professor Emeritus Dilip V. Sarwate in error correcting codes. "I was interested in working with Arvind from the time he came to Illinois. His transition from his MS research in coding theory to his PhD research in communication networks reflected his wide breadth of interests," Hajek said.

He absorbed new ideas quickly, asked perceptive questions, and devoted the necessary time to his work in tackling and finding solutions for the complex engineering problems before him.
Krishna's PhD thesis was on the design and analysis of interconnection networks for high-speed packet switching fabrics in routers.
"I clearly remember him taking the lead on a project near the end of his thesis research, working with a fellow graduate student and myself on routing in butterfly networks with bounded degree nodes and bounded buffer sizes," Hajek said.
Even in recent years, Hajek and Krishna have continued to learn from one another- even discussing Krishna's vision for IBM, technology, science, education, and society broadly.
"He thinks deeply, quickly, and comprehensively about the evolution of information technology," said Hajek. :Through the years, Arvind has maintained his balance, humility, and a desire to please, together with outstanding vision, energy, and breadth."