CSL's newest researcher, Nam Sung Kim, is advancing power-efficient computing
Associate Professor Nam Sung Kim is CSL's newest faculty member, joining for fall 2015. Kim is also an associate professor at ECE ILLINOIS.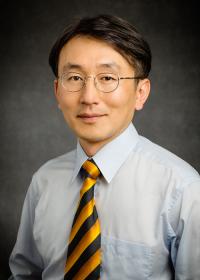 Kim worked most recently at the University of Wisconsin-Madison, where he got an early tenured appointment in 2013. His interdisciplinary research incorporates devices, circuits, and architecture for power-efficient computing.
Before joining the University of Wisconsin-Madison, he was a senior research scientist with Intel from 2004 to 2008, where he conducted research in power-efficient digital circuit and process architecture. He earned a PhD in Computer Science and Engineering from the University of Michigan-Ann Arbor and a Master and Bachelor's degree in Electrical Engineering from the Korea Advanced Institute of Science and Technology.
His research will continue to incorporate computer architecture and circuits, computing systems and software, and power efficiency from mobile devices to supercomputing systems. He's especially interested in making data centers more energy-efficient.
"Data center electricity consumption is projected to increase to roughly 140 billion kilowatt-hours annually by 2020," he said, "the equivalent annual output of 50 power plants, costing American businesses $13 billion annually in electricity bills and emitting nearly 100 million metric tons of carbon pollution per year."
Improving power efficiency will affect humans in a variety of ways, from improving the battery lives of cell phones to reducing data centers' carbon footprints.
Kim is especially excited about the interdisciplinary opportunities that will be available to him throughout ECE ILLINOIS and the Illinois campus as a whole.
"I'm seeking diverse collaborators through devices, materials, and computing," he said, and he plans to collaborate with Professors Rakesh Kumar, Wen-mei Hwu, Ravi Iyer, Naresh Shanbhag, and faculty members at CS @ ILLINOIS, as well.
Kim is teaching ECE 385, Digital Systems Laboratory, with Lecturer Zuofu Cheng this fall.