Four new faculty join CSL
Four faculty researchers have recently joined the Coordinated Science Lab.
Jian Huang, who is new to the University, has joined ECE Illinois and CSL as an assistant professor of electrical and computer engineering.
Huang received his PhD from the School of Computer Science at Georgia Institute of Technology in 2017. His research interests lie in the areas of computer systems, including operating systems, systems architecture, systems security, distributed systems, and especially the intersections of those areas. He will be a member of CSL's Reliable and High Performance Computing research group.
He enjoys building computer systems. The goal of his research is to build practical, reliable, secure, and high-performance systems, and to bridge all layers of systems stack from hardware platforms to applications. His research contributions have been published at top-tier systems, architecture, and security conferences. His work won the Best Paper Award at USENIX ATC in 2015 and the IEEE Micro Top Picks Honorable Mention in 2016. Most of the technologies he has developed have had an impact on industrial and real-world systems, and some are being transferred into products including those at Microsoft data centers. His collaborative research with MSR won the Microsoft Research Outstanding Project Award in 2017.
In addition, CSL has welcomed two faculty members,
Aleksandr Stolyar
and
Ruoyu Sun
, from Illinois'
Industrial and Enterprise Systems Engineering
department.
Stolyar is one of the world's top queueing theorists, specializing in analysis and control of stochastic networks. One of his fundamental theoretical contributions to the field is the introduction of the fluid limit technique for establishing the stochastic stability of queueing networks. This method has become a powerful tool in the stochastic networks theory.
Another of Stolvar's important contributions is the pioneering study of the MaxWeight scheduling algorithm in the heavy-traffic asymptotic regime. This work received the 2002-2004 Best Publication Award from the INFORMS Applied Probability Society.
Stolyar's work has also made significant industrial impact, especially during his 16 years at Bell Labs Mathematical Sciences Research Center. He is an author of over 20 patents, with many solutions and algorithms implemented in real systems. He will join CSL's Decision and Control group.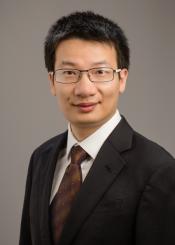 Assistant Professor Ruoyu Sun's work focuses on data analytics. His research interests focus on large-scale optimization and its application in machine learning, data analysis and signal processing. He has also worked on signal processing and information theory for wireless networks, receiving the second place of INFORMS Nicholson student paper competition for hisy work on randomly permuted ADMM, and the honorable mention of INFORMS optimization society student paper prize on matrix completion via non-convex factorization.
Prior to joining Illinois, Sun was a visiting researcher at FAIR (Facebook Artificial Intelligence Research) as a (full-time) and a postdoctoral scholar in the Dept. of Management Science and Engineering at Stanford University, where he worked with Yinyu Ye.
At CSL, he will work with the Signals, Inference, and Networks group.
Illinois Professor of
Mathematics
Vadim Zharnitsky
has also joined CSL as a member of the Decision and Control group.
Zharnitsky's research interests center around dynamical systems and differential equations, nonlinear waves, and Hamiltonian dynamics.