"The Friendly Orange Glow" attracts renewed attention to CSL invention
A new book is bringing renewed interest and attention to technology created at Illinois by CSL and ECE Professor Emeritus Donald L Bitzer.
A technological revolution started with PLATO, the Programmed Logic for Automatic Teaching Operations system, developed at the Coordinated Science Lab at the University of Illinois at Urbana-Champaign in 1960. The PLATO computer system was several decades ahead of its time and the first of its kind to combine graphics and touchscreens. Author and tech-entrepreneur Brian Dear tells the story of this influential computer system in his new book "The Friendly Orange Glow."
Dear held a book signing and reading at the Alice Campbell Alumni Center in November. The event was sponsored by the University of Illinois Alumni Association's History and Traditions Program.
Developed as a technological solution to deliver individual, computerized education to students across the nation before Windows and Macs were yet to be conceptualized and computers took were massive systems that took up entire rooms.
The first versions of PLATO ran directly off TV signals generated by the behemoth ILLIAC I. To get PLATO courses into the schools, though, Bitzer had to find a way to distribute the images to remote terminals in a less expensive way. This obstacle resulted in the invention of the plasma display with CSL Professor H. Gene Slottow and graduate student Robert Willson. Their invention led to an
Emmy Award from the National Academy of Television Arts and Sciences
.
The Donald L. Bitzer and H. Gene Slottow Creativity Award continues their legacy of innovation at ECE ILLINOIS, recognizing a student or students who demonstrate the most creativity and inventiveness in a design project. The annual award was established in 1989 by the pair using part of the funds they received from the development of the AC-plasma display panel.
In his book, Dear details some of the innumerable ways PLATO has influenced modern technology. "Imagine discovering that a small group of people had invented a fully functioning jet airplane capable of flying long distances at hundreds of miles per hour, decades before the Wright brothers," Dear writes.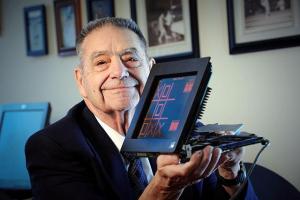 Some of the most popular pieces of software ever made, including Lotus Notes and Microsoft Flight Simulator, share a direct lineage with the applications produced by students at Illinois and other nearby universities more than 40 years ago on PLATO,
Motherboard said in a recent article
on Dear's book. "Dear captures a forgotten culture full of modern-day parallels, highlighting the ways that some PLATO users, like former Microsoft executive Ray Ozzie, parlayed their experiences into later success." the article reads.
"The Friendly Orange Glow" has already attracted attention within the tech sphere. "I loved this deep unknown history. An incredible tale of a ragtag team of students inventing key technologies—flat screens, instant messaging, networked games, blogging—decades before Silicon Valley, and then they were totally forgotten. Your mind will be blown," said Kevin Kelly in an article for Wired magazine.
Dear was asked in a Reddit AMA (Ask Me Anything) how PLATO impacted his own life. He recounted how the system served as a social medium before the advent of Facebook, Twitter, and other modern social media websites. "PLATO quickly became the hub around which I spent my time when I was at the University of Delaware. So I got to know people through that," he said. "I made lots of friends on PLATO, and in fact met my wife through a TERM-talk one day in 1984. That was very common -- lots of people met their significant others that way going back into the 70s in fact."
Dear's new book and PLATO have recently been featured by The Wall Street Journal, Nature, Motherboard, Wired, Santa Fe New Mexican, Illinois Public Media, and CS@ILLINOIS.