Illinois researchers developing new technology to assist in-home rehab care
In the future, the occupational therapist helping you relearn how to use a fork following a stroke might be a computer.
Researchers at the
University of Illinois at Urbana-Champaign
and the
University of Buffalo
are developing new technology that could assist stroke victims and others with occupational and physical therapy at home. The project, "Cognitive Haptic-Based Rehabilitation System for Patient-Centric Home," is funded by the National Science Foundation at $708,000 for three years.
"When people go back home after a stroke, they are rarely monitored and often decline in abilities," said Thenkurussi (Kesh) Kesavadas, director of the Health Care Engineering Systems Center at Illinois and a professor of industrial and enterprise systems engineering. "Our primary goal is to use very advanced technology to help people do fine-motor rehab at home."
The research comes at a time when health care costs are driving stroke victims to reduce time spent in in-patient rehabilitation care and return home before regaining full functioning. Stroke is a leading cause of disability among American seniors, with nearly 800,000 strokes occurring each year.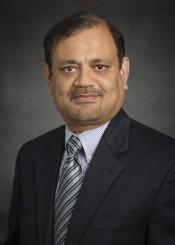 Researchers in Illinois' Coordinated Science Lab are developing a system based on haptics, the process of recognizing objects through touch. The team is working to create a low-cost model that can help enforce proper technique through exercises, which will be designed using data collected by analyzing the motion of healthy subjects. In particular, the work will target fine motor skills – which usually involves synching the hand and fingers to make small movements – over gross motor skills, which are less challenging to rehabilitate.
The system will have three main components: a hardware platform, a remote-access interface so that an off-site therapist can monitor progress and modify the therapy regimen as needed, and a brain-machine interface that allows the system to adapt itself to the patient's level of effort based on cognitive measurement.
Ehsan Esfahani, an assistant professor of mechanical and aerospace engineering at Buffalo, says the system will evaluate patients' progress based on whether they complete a task, the accuracy with which they perform the task, and their level of mental engagement during the treatment.
"This evaluation empowers the physician to monitor the subject's performance during in-home therapy and allow him or her to adjust the haptic and simulation in an appropriate fashion," Esfahani said.
The same approach could be used in other applications as well, such as helping children with dysgraphia learn how to write.
"This technology could really help assist in teaching any fine motor skill through repetition of movement," Kesavadas said.