IMPACT research team wins Best Paper Award at IEEE SOCC2022 Conference
If all our electronics depend on Internet of Things (IoT) devices for essential information, how do we keep everything secure?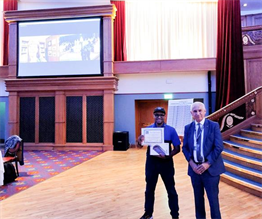 The answer from Coordinated Science Laboratory researchers Mohamed El-Hadedy and Wen-mei Hwu is RECO-HCON: a small, low-power crypto-processor. Their paper introducing the device, "RECO-HCON: A High-Throughput Reconfigurable Compact ASCON Processor for Trusted IoT," won the best paper award at the 2022 IEEE 35th International System-on-Chip Conference.
IoT applications, where physical devices routinely share operating and sensor data over networks, present a wide range of opportunities in the automotive, consumer, and energy sectors. They are starting to emerge in areas with heightened sensitivity and privacy requirements.
"Statistics show that by 2030, the number of connected IoT devices will reach 25.44 billion, which can lead to back-end security breaches," said Mohamed Aly, a former research scientist in the CSL IMPACT group which Hwu leads.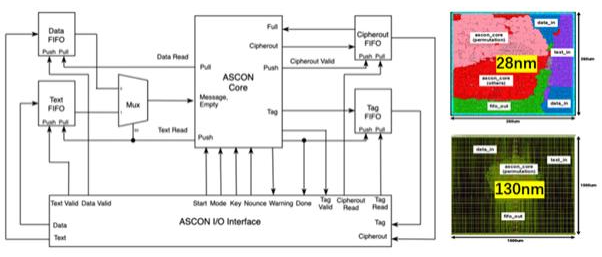 "In addition, any security measures must fit within strict power budgets and work in the tight physical constraints of smaller devices. Previously, it was widely believed that only hardware specialized for a particular protocol can meeting such power budgets."
In response to these challenges, the US National Institute of Standards and Technology began the Lightweight Cryptographic Competition in March 2021 to develop methods for securing tiny devices. One of the finalist systems, ASCON, formed the basis for the award-winning RECO-HCON.
The crypto-processor was developed by El-Hadedy, who is also an assistant professor at The California State Polytechnic University, Pomona, and Hwu, the AMD Jerry Sanders chair emeritus at the University of Illinois Urbana-Champaign, in collaboration with researchers at Shanghai Jiao Tong University.
Aly said that RECO-HCON supports all ASCON protocols and has six encryption, decryption and hash function modes. It can be 28 or 132 nanometers in size—100 million to 1 billion times smaller than a smartphone. Under typical operating conditions, it consumes just microwatts of power—100 million times less than the electrical power supplied by wall plugs.
The 35th IEEE International System-on-Chip Conference was held in Belfast, Northern Ireland, UK from September 5 to 8. It is a "forum for sharing the latest advancements in SoC architecture, systems, logic and circuit design, process technology, test, design tools, and applications." Only one paper was selected to win the best paper award this year.
*Mohamed El-Hadedy contributed to this article.