Kumar Receives Mahatma Gandhi Pravasi Samman Award at the House of Commons
ECE and CSL Associate Professor Rakesh Kumar has been awarded the Mahatma Gandhi Pravasi Samman award, which is given to non-resident Indians for outstanding services, achievements, and contributions."Pravasi Samman," translates to non-resident honor. It is a prestigious award for global achievement and is given to only about 30 people per year among over 16 million Indians living outside India. He received the award for the impact his research has had on the industry, on the state-of-art, and increasing awareness of technology-related policy issues in India. Professor Praveen Kumar, Colonel Harry F. and Frankie M. Lovell Endowed Professor of Civil and Environmental Engineering, was also an awardee from Illinois last year.
The award is given by the
NRI Welfare Society of India
, an organization established to strengthen bonds between India and non-resident Indians. The award was presented to Kumar at the House of Commons in London, on April 18
t
, where several current British Parliament members also attended the events. The reception was held at the House of Lords on April 19
th
.
"It was a fantastic experience with several interesting and inspiring awardees, who had fascinating stories," said Kumar. Some awardees he met include: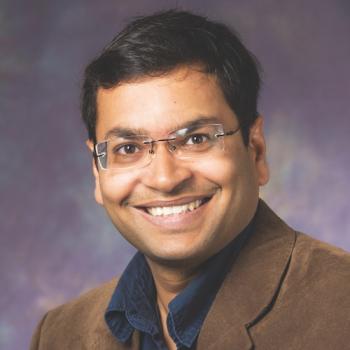 Kumar's current research interests are in computer architecture, low power, trustworthy and error resilient computer systems, and approximate computing. His research and teaching have been recognized through several best paper awards and best paper award nominations (IEEE MICRO Top Picks, ASPLOS, HPCA, CASES, SELSE, IEEE CAL, SRC TECHCON), Stanley H Pierce Award, Mahatma Gandhi Pravasi Samman, Ronald W Pratt Faculty Outstanding Teaching Award, Engineering Council Award for Excellence in Advising, ARO Young Investigator Award, Arnold O Beckman Research Award, FAA Creative Research Award, and UCSD CSE Best Dissertation Award. He also previously served as a Co-Founder and Chief Architect at Hyperion Core, Inc, a microprocessor startup aimed at bringing polymorphous grid processor technology to the market. Rakesh has a BS from IIT Kharagpur and a PhD from University of California at San Diego.