NICER makes strides toward creating "friendly" robots
In the box office hit I, Robot starring Will Smith, humans in the movie live in harmony with and depend largely on robots. Unfortunately, the robots surpass the intellectual and emotional capacity humans designed them to have and come to pose a threat to humanity.
I, Robot, along with many other science-fiction stories, perpetuates a stigma and fear of robots, instilling "robotophobia" in the public. It's a perception that researchers at the University of Illinois at Urbana-Champaign's Coordinated Science Lab are combatting through the NICER project. The research was awarded a Focal Point grant for $12,000 from the Graduate College of Engineering over the summer.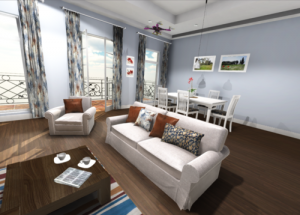 Aptly titled, NICER, or Non-Intrusive Cooperative Empathetic Robots, aims to develop mobile robots with which humans feel comfortable. Robots have the potential to benefit humans in the workplace and home -- they could help seniors with daily living tasks, for example -- but to accomplish that, humans must trust robots to help and not harm them.
Thiago Marinho, a PhD student in mechanical engineering, said, "Cooperation and coordination is the key to bringing current robots closer to humans. This can only be done by studying the psychology aspects that lie behind this interaction."
Marinho is working on the project alongside Venanzio Cichella (graduate student, MechSE), Naira Hovakimyan (faculty, MechSE), Frances Ranxiao Wang (faculty, Psychology), Camille Goudeseune (computer systems analyst, Beckman Institute), Kasey Ackerman (graduate student, MechSE), and Ishaan Pakrasi (undergraduate student, MechSE).
To explore the relationship between these flying robots and humans, the team has created a virtual environment scenario. The research and testing are taking place at the Coordinated Science Lab and at Beckman Institute in the Illinois Simulator Lab (ISL). ISL has a high-tech virtual reality facility known as the Cube, where the researchers can safely collect experimental data.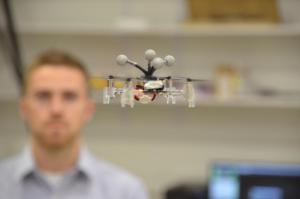 Like Hovakimyan's other current robotics endeavor, ASPIRE (Automation Supporting Prolonged Independent Residence for the Elderly), which focuses on older adults, NICER requires the involvement of not only computer science and engineering departments, but those of psychology and human factors as well.
"This project is important because it can identify how tolerant humans are to the robots we have been developing," said Marinho. "Once we understand how the human is affected psychologically by these flying robots, we will be able to program their brains to aid the human in the best possible way without disrupting the human's comfort."
Marinho said that he has been passionate about robotics for many years, but his interest in human-robot interactions was piqued once he joined Hovakimyan's group. After being exposed to a project in which quadrotors danced the tango with each other, he wondered when humans would be able to dance alongside them. He said that he "could not stop thinking about how to design these robots to make them in a way we feel comfortable around them."
Marinho's passion mirrors that of his team's and will be a driving force in the completion of NICER. It has started as a one-year project, referred to as Phase 1, but Hovakimyan's group plans to extend the funding to a Focal Point Phase 2 Project.
Presently, they are virtualizing, or designing the robots on a computer, so that they don't have to physically construct them. Ultimately, they plan to build a prototype, making them one step closer to a day that robots and humans can finally enjoy that tango together.