Varshney returns from year researching AI for good
The 2019-2020 school year was different for a lot of CSL faculty, but especially for Associate Professor Lav Varshney. He spent the year in California conducting research on using artificial intelligence (AI) for social good and exploring the ethics of AI.
What were you doing during your time away from CSL?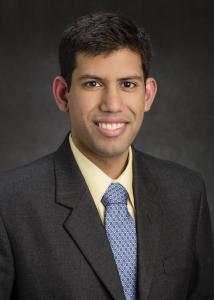 I was at Salesforce Research in Palo Alto, California, which focuses primarily on deep learning. It was fun to be out in Silicon Valley to see what things are like out there. I also got to meet up with many friends and colleagues who are in the Bay Area, learn about some start-up ideas, and see the Fighting Illini play in the Redbox Bowl, among many other things like being in a documentary series.
What is the most memorable thing that happened while you were in California?
Our son was born out there, and so I got to take some paternity leave within the leave of absence to spend time with him. Our family also got some further quality time together in our Palo Alto apartment during COVID-19.
What research were you working on during your time in California?
I was putting most of my efforts into AI ethics and AI for social good research, while also being immersed in modern deep learning and its applications. Some of the projects I was involved with included working with Citylink Center to figure out optimal paths out of poverty, working with Baltimore Corps to figure out ways to better match people with non-traditional credentials to jobs in the social sector while ensuring racial justice, exploring ways to make data centers more energy efficient, and exploring ways to predict patient mortality from electronic health records. I also looked at AI safety in the context of large-scale language models, questions of AI fairness, and thought through respect for human autonomy as a principle in AI ethics. When COVID-19 shocked everyone, I also looked into how community strength impacted initial spreading rates.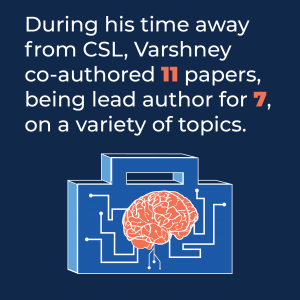 Will your work continue now that you're back at CSL?
There are some further papers in the works, which I am continuing to contribute to from here in Illinois on topics including the deployment of AI ethics in practice, efficient COVID-19 testing, and how to modify infrastructure/social networks to provide equitable access to different racial and gender groups.
How was overall experience during your leave?
It was a nice change of pace that gave me exposure to a wide variety of modern AI research techniques. I got to start working in a new research area for me (AI ethics) that I plan to continue now that I am back, and also to work on AI for Good projects that were personally fulfilling.
Varshney's work with Salesforce colleagues on patient mortality came in second, as part of the DREAM challenge. Besides keeping up with his students from afar, he was an author on 11 manuscripts/papers during his time at Salesforce, and lead author on seven.