Undergraduate Researchers Spotlight
Undergraduate Researchers Spotlight
Undergraduate research at the University of Illinois Urbana-Champaign allows students to gain hands-on experience with faculty who are leaders in their fields, learning valuable skills and investigating various research fields as early as their freshman year. They may discover and refine career goals and build relationships and abilities that will lead them to better careers, whether in industry or academia.
Six undergraduate students participating in research have shared their experience below.
By: Amber Rose
Sneha Mittal
Sophomore, Biochemistry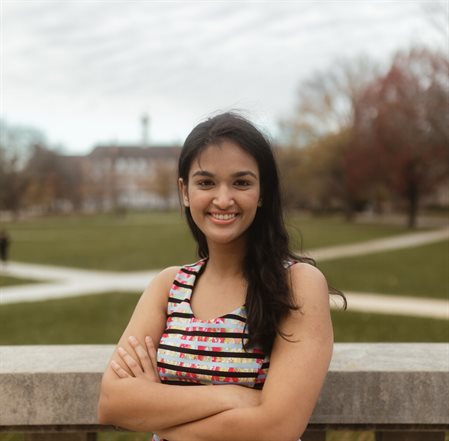 As a freshman, Sneha Mittal attended a seminar by electrical and computer engineering (ECE) professor Brian Cunningham (HMNTL). She intended on taking notes but was so captivated that she left with a blank document. Mittal says "It was so interesting. I was at the edge of my seat. Everything they were working on was absolutely amazing." She approached Cunningham after the seminar and landed a position working in his lab with an "incredible" graduate student mentor.
Mittal's research focuses on developing an assay to detect specific lung cancer mutations using the CRISPR-Cas system, which targets an exact sequence in the genome. Certain mutations, if present, will render chemotherapy and radiation therapy ineffective. Mittal explains "One of the things that I'm really excited and absolutely love about this assay is that it uses blood plasma samples, which means it's not invasive. Lung biopsies can be difficult on the patient." Even worse, a biopsy may fail to detect cancer that has not spread to the part of the lung being sampled; this is not an issue if a blood test is used instead. In addition, the assay is significantly faster than a biopsy, yielding results in hours instead of weeks. This project is in collaboration with Mayo Clinic.
Her favorite thing about undergraduate research is "definitely seeing how everything I'm learning in the classroom can be applied and manipulated in a way to be used in medical research." As a pre-med student, Mittal hopes to attend medical school after she graduates and is thinking about specializing in surgery. She says her experience in undergraduate research has helped her gain unique skills that can be used in her future medical career.
Eric Yang
Senior, Materials Science and Engineering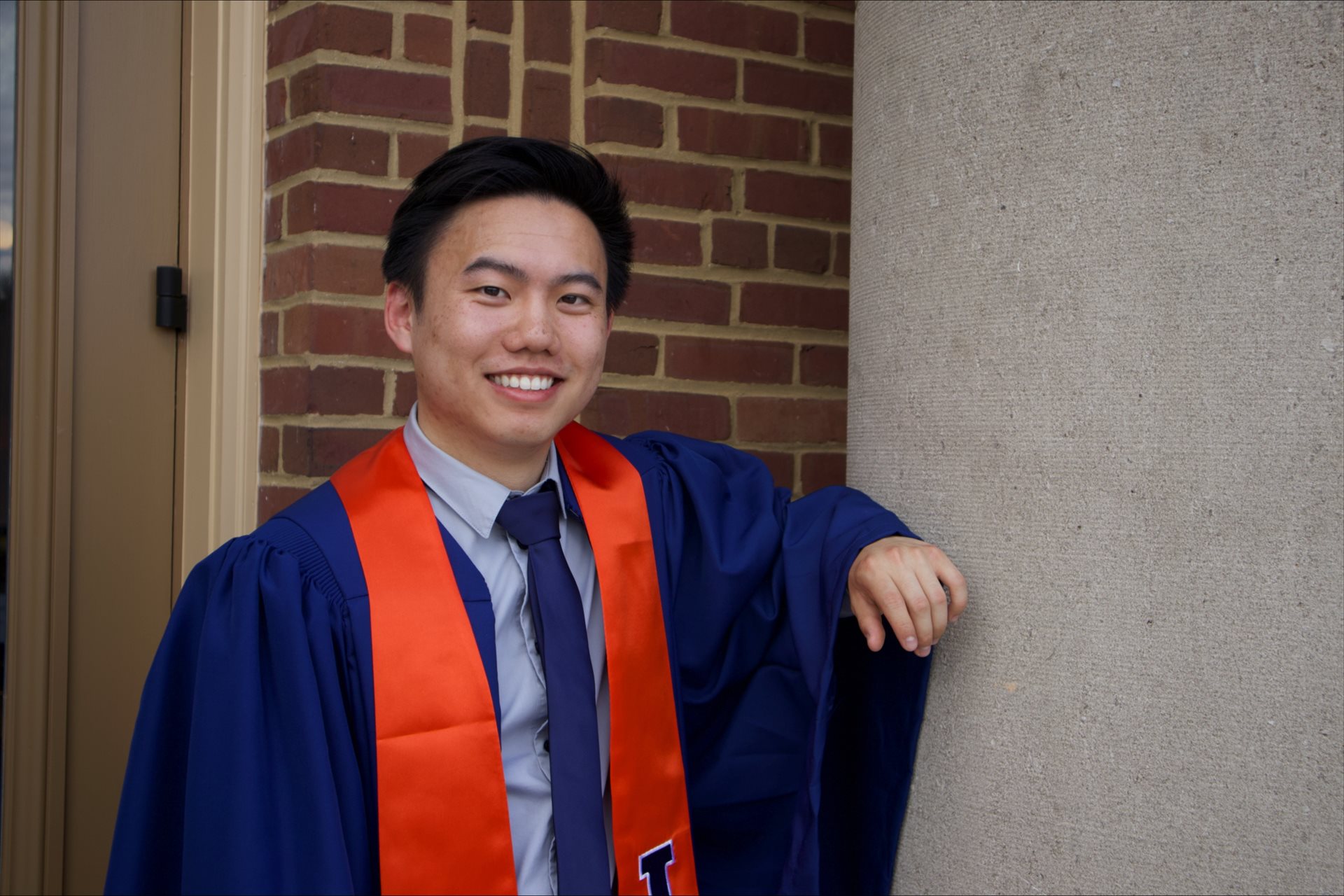 Eric Yang has worked in the research lab of materials science and engineering (MatSE) associate professor Qian Chen (MRL) for about two and a half years. In fact, research is so important to him that UIUC's rich undergraduate research opportunities were a factor in decision to study here. He says "UIUC has a reputation for having a really good research program, which is one of the reasons why I came to this school for undergrad."
Yang's research has focused on building an automatic workflow to analyze gold nanoparticles after they have been imaged using a transmission electron microscope. Ligands can be attached to the gold nanoparticles, which can be programmed to assemble into different crystal lattice shapes. Yang trained a neural network to identify the different components to speed up that analysis process.
"I think the coolest thing about undergraduate research is being exposed to the whole research network in general," Yang says. "I have a paper I'm working on, and our collaborators are from the University of Michigan, Cornell, and Penn State. It's really nice to see how collaborative the community is."
In the fall, Yang will pursue his PhD at Northwestern University in materials science and engineering. He believes his undergraduate research has influenced his path and says that "research is a skill you accumulate over the years. Being able to do research here has allowed me to have a stepping-stone towards doing a PhD. The network that Illinois provided within the research community has really benefited me in terms of graduate admissions and future career prospects."
Yubin Koh
Senior, Computer Engineering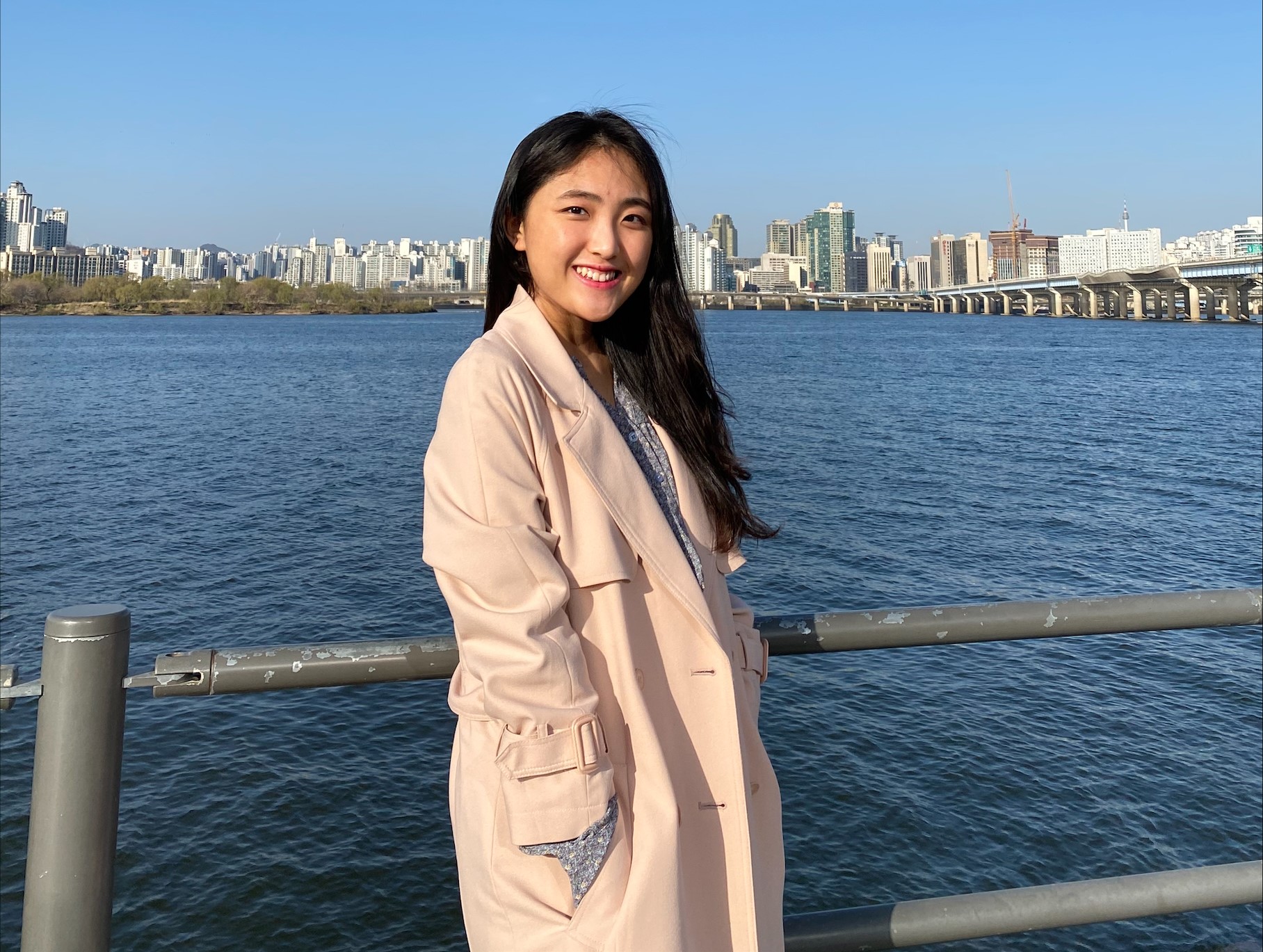 Yubin Koh is a senior computer engineering student and has been working with ECE professor Sayan Mitra (CSL) since the beginning of her junior year. Koh was initially an electrical engineering student, but ultimately decided that she was more interested in computer engineering. That's when she decided to look for research opportunities that allowed her to explore the field. She was interested in safe autonomy for self-driving cars and wanted to join Mitra's lab because it is active in that field.
Koh is currently working on her undergraduate thesis on safety assurance for vision-based formation control systems. For example, drone systems use computer vision to perceive the position of other agents in relation to its own position. Her research explores what kind of controller is needed for any initial configuration in the formation control system to always converge to a target formation, and whether we can guarantee safe separation of all drones even when perception errors are introduced in the system.
Of her experience, Koh says, "UIUC has really great opportunities for undergrads to do research. Undergrads have their own opportunities to explore and do the research that they are interested in." During her junior year, she decided that she liked research and wanted more experience, so she applied and was accepted to an internship at Johns Hopkins University. Koh says the internship "was a really great experience. I wanted to continue doing research and studying more in-depth areas, so I decided to go to graduate school. This whole journey, the research experience I've gained at UIUC, really shaped my interests, and confirmed that I wanted to pursue this career." This fall, she'll begin pursuing a PhD in computer science at Purdue University.
Ethan White
Junior, Electrical Engineering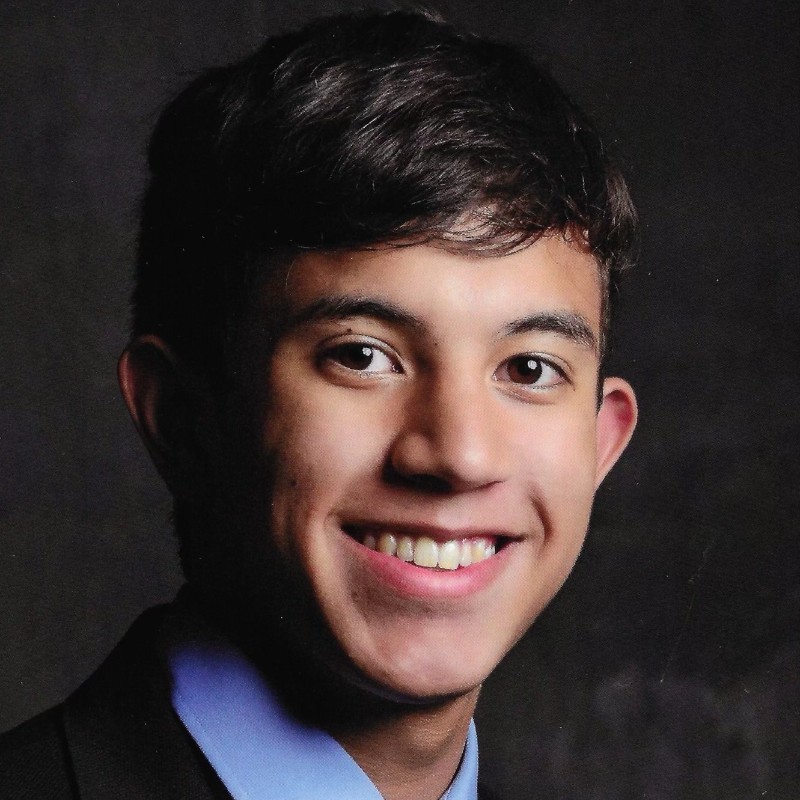 While working to complete his undergraduate degree in three years, Ethan White has managed to squeeze in research time as well. White started undergraduate research in his first semester at UIUC and has been working with ECE assistant professor Shaloo Rakheja (HMNTL) for the last year. He says he started undergraduate research "because I wanted something to do outside of classes that was engineering related to build my skills."
White's research uses TCAD (technology computer aided design) of GaN HEMTs (gallium nitride high electron mobility transistors). A big problem with trying to design transistors and other microelectronic devices is their tiny size. White explains "You can't build it and then just stick probes on it to see what happens, because they are really hard to build, very expensive, and it takes a lot of time. So, we use TCAD to run simulations and adjust parameters." That makes it possible to model current flow and monitor how the device heats up. It is a good way to understand how a device will behave before they spend time and resources building it.
"The best part about undergraduate research has been collaborating with members of the Air Force Research Lab- we have weekly meetings with them," White says. "The networking has been very good, and I have been able to meet a lot of people. After I met my professor [Rakheja], she was able to introduce me to all of her students and get to know all of her other collaborators. That's been a beneficial part of it." He has already published papers in academic journals and will attend a conference in June.
White is unsure about his next steps but says that "the nice thing about undergraduate research is that it appeals to a lot of different people. I'm in a good place because I'm developing skills and I'm working on something that can appeal to both academia and industry."
Katrina Arsky
Junior, Materials Science and Engineering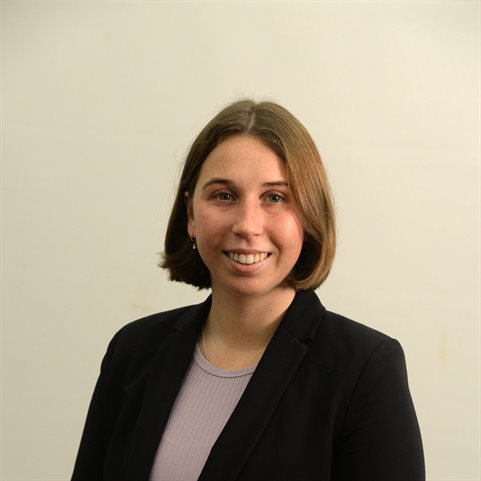 Katrina Arsky has been working in the lab of MatSE assistant professor Nicola Perry (MRL). Like many students, Arsky got involved in undergraduate research to help decide on her path after graduating, but she was also very interested in Perry's research in the area of solid oxide fuel cells. After reaching out via email, Arsky has been working in Perry's lab for almost 2 years.
Arsky's research is focused on creating better materials for solid oxide fuel cells. "We are working with mixed ionic and electronic conducting materials," Arsky explains. "Specifically, what I've been working on is looking to optimize the way that we are testing these materials." They do pulsed laser deposition of combinatorial thin films to get many different compositions of the material instead of a uniform composition on one film. These combinatorial thin films are analyzed to determine how efficient the material might be in a solid oxide fuel cell. Because there are many compositions, it is hard to process all of that data. Arsky is working on the data analysis process for those films.
Arsky says her favorite part about undergraduate research is getting to know a topic so well. Although she felt a bit lost the first few months, things started to click into place with more time and experience. She says, "It's very hard to be that in-depth on a topic, unless you've been studying for years, or like Professor Perry, her entire career. I think that's the most interesting thing." Because of her undergraduate research experience, she was able to land an REU (research experiences for undergraduates) position at the University of Buffalo. She will also work at Texas Instruments this summer to pursue her interest in semiconductors and their manufacture. After graduation, Arsky plans on going into industry.
Anakin Dey
Junior, Mathematics
Anakin Dey started to do research in the fall of his sophomore year, as he was debating whether to pursue a career in industry or academia. He wanted to see what academic research was like. Now a junior, Dey works with aerospace engineering assistant professor Melkior Ornik (CSL) in the field of control theory.
Dey's research focuses on heuristic algorithms. He explains that "some computational problems are extremely easy, and some are extremely hard. More often than not, the ones we care about are just extremely hard, and in these extremely hard scenarios, we don't need an exact answer, we just need a good enough answer." He takes a hard problem and visualizes potential patterns. He then works to create a fast approximation rather than an exact answer, which vastly speeds up computation.
"My favorite part of research is that, as opposed to homework, the answers aren't there," Dey says. "I get to really explore problems over a long timescale which allows me to try a bunch of things. And I get some very exploratory processes and more often than not, stuff doesn't work, which can get frustrating. But I just keep trying to make progress, try new things, see what works, and talk to a bunch of people and see what their ideas might be." Dey has found it rewarding to see a project all the way through to the end: from thinking about the problem, to creating a solution, to writing up the paper and presenting it at a conference.
After graduation, he plans on to pursue a PhD in either pure mathematics or theoretical computer science. Dey says that undergraduate research has given him more confidence that he's making the right decision in pursuing a PhD and feels like he'll have a better chance of finishing that degree because of his experiences.