CSL had a great year in 2018. From new solutions to new centers it was a great and innovative year. Below are the top five news stories from the last year based on how many clicks they got on the CSL website.
Starting with #5: SENSELET provides sensory-driven IoT network for scientific instruments
When fabricating new semiconductors for computer chips, the external environment – such as the humidity, temperature, or vibration from nearby machines – can make or break the experiment. That holds true for many types of research involving scientific instruments, including the discovery of new materials or biomedical processes. A team of researchers at the University of Illinois is building a wireless and scalable sensory infrastructure that will help scientists better understand the conditions under which their experiments succeed or fail, with the idea of accelerating scientific discovery and the introduction of new technology to the marketplace. The National Science Foundation is funding the two-year, $500,000 project, titled "SENSELET: Sensory Network Infrastructure for Scientific Laboratory Environments."
#4: Understanding the behavior of drone swarms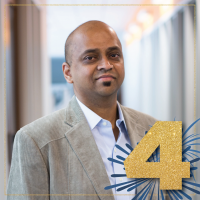 Parenting a toddler is like flying a drone. It's easier when there is just one of them; when there are more, it's difficult to predict what they will do next – and there's a chance one could go rogue at any time.
While parents may not be able to predict toddlers' actions, designers of drone swarms could soon understand the correct behavior of a group of unmanned aerial vehicles (UAVs), alerting operators if any are behaving irregularly or have potentially been hacked. Sibin Mohan, Research Assistant Professor in the Department of Computer Science and the Information Trust Institute, has a new project titled, "Characterizing Behavior and Anomaly Detection in Distributed Unmanned Vehicles," which will outline what constitutes normal behavior for these types of systems.
#3: Kumar Receives Mahatma Gandhi Pravasi Samman Award at the House of Commons
CSL and ECE Associate Professor Rakesh Kumar has been awarded the Mahatma Gandhi Pravasi Samman award, which is given to non-resident Indians for outstanding services, achievements, and contributions."Pravasi Samman," translates to non-resident honor. It is a prestigious award for global achievement and is given to only about 30 people per year among over 16 million Indians living outside India. He received the award for the impact his research has had on the industry, on the state-of-art, and increasing awareness of technology-related policy issues in India.
#2: Center for Autonomy launched to develop research, education in emerging field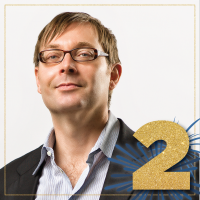 From self-driving cars to intelligent robotic assistants to remote surgical systems, autonomous technology will revolutionize the way we live, work, and play. In order to enable this revolution, however, advancements in foundational research and workforce development must first take place to provide assured and certified-safe performance.
The Center will play an important role in designing innovative systems that can function autonomously, or without human intervention, in a safe and reliable way.
#1: Illinois and Mayo Clinic team up to develop improved method to identify seizure-causing regions in the brain
Epilepsy—a condition that affects an estimated 65 million people worldwide—can be a difficult condition to treat. A team at the University of Illinois at Urbana-Champaign and Mayo Clinic have developed a method with the potential to significantly improve the accuracy and reduce the cost and time needed to identify regions of the brain causing epilepsy.Using probabilistic modeling and artificial intelligence techniques based on real data from patients suffering from epilepsy, Yogatheesan Varatharajah and Mayo Clinic neurologist Dr. Greg Worrell developed a model to identify seizure generating brain regions using only non-seizure data. The new approach has the potential to decrease the time of an epilepsy procedure from days or weeks to just a couple of hours.